My Boston That Wasn't
"Some sessions are stars and some are stones, but in the end they are all rocks and we build upon them." A legitimate pearl of wisdom from four-time Ironman Triathlon World Champion Chrissie Wellington. In the experience of any runner, there are good runs and there are bad ones. And beyond individual sessions, one might also argue that there are good training seasons, and bad ones too. In December of 2018 I was surprisingly gifted an invitation to run the 2019 Boston Marathon by Somerville Road Runners. The event, taking place on April 15th, would mark ten years that I've been a member of the club and suddenly gave me unexpected enthusiasm to run and to train during the winter season. For anyone who lives in New England, or a similar latitude, you can likely appreciate the hardships, the hazards, and arguably the horror of venturing outside on a frigid day, for any reason at all. But this particular winter was to be different, and I was genuinely anxious to get things started.
I had just run the Chicago Marathon only a couple of months earlier in October, so I was already familiar with the program and the commitment that would be required over the next few weeks and months. For most runners, marathon training can take anywhere from twelve to twenty weeks, depending on their level of fitness and their experience. I've also known some elite runners who've not followed any program at all, but just showed up at the start line and run three-hour marathons. If these folks are considered thoroughbreds, then I'm an old work horse, or perhaps something of a Clydesdale; big and slow. Being a four-and-a-half-hour marathoner, it's imperative to prepare my body for the protracted punishment it will receive over that amount of time; and to prepare my mind to overrule the body when it's ready to quit.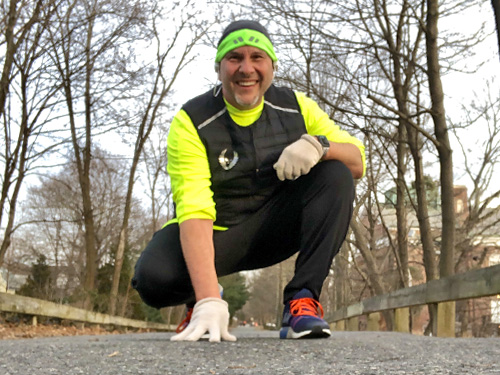 The beginning of the beginning – My training season started on a very promising note. On New Year's Day, instead of the usual 5K race that I run, I upgraded my registration to a 10K. That endeavor was very successful and I felt mentally and physically charged. Over the next few weeks the weather was surprisingly mild for winter in these parts, which gave me ample opportunity to rack up some miles running outside on the local sidewalks and bike paths. Late February approached, as did the Hyannis Half Marathon, which my brother Dave and I register for annually. The last couple of years I had been ill-prepared for the event and had twice (shamefully) downgraded my entry to the 10K race. But this year marked my confident return to the half marathon, which I also finished successfully, leaving me feeling both satisfied and ever-more confident about Boston… now only six weeks away.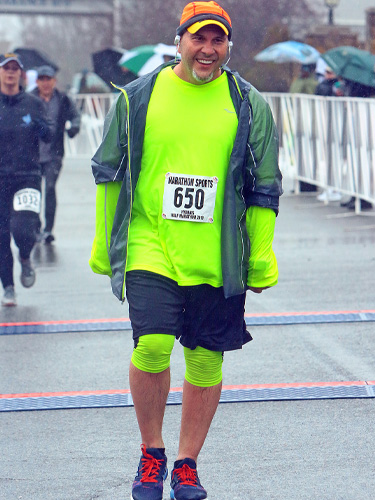 The end of the beginning – Two days after Hyannis I was airborne and on my way back to New Zealand; the country of my birth, and beloved home of my mother, and my sister and her family. I try my best to get over there a couple of times a year, and not many things can compare to being in your homeland. How lucky I am to spend time in a place that's always green, to spoil my little nephews with mountains of candy, and to appreciate the comfort of Mum's home-cooking. Among many other things, it gives me the opportunity to cut winter short, because the seasons in the Southern Hemisphere are opposite of ours. This timely trip was boding really well for marathon training. I had managed through the first two months of northern winter, and now I could comfortably ride out the last three weeks in warm weather and get in some nice long runs.
The beginning of the end – The first weekend in New Zealand I was still terribly jet-lagged and not physically nor mentally up to a long run. So I did what any imprudent person would do and decided to put it off for a few days. Mid-week I finally went out for my sixteen-mile training run. The weather was warm and humid, and I had quickly acclimated to that. The course I had mapped out was both rural and residential, and quite familiar to me as I've trained along this particular route (Manurewa to Papakura) in the past. I recall the last mile of this run being particularly painful, though my mind successfully overruled my body and I didn't quit. Feeling quite confident, only four days later I lined up that the start of the 1st Annual Maraetai Half Marathon; a coastal run that proved mostly flat and fast with the exception of two massive 800-foot hills in the middle of the course. The weather was perfect, the scenery was gorgeous, and the event turned out to be a challenging and wonderful work-out.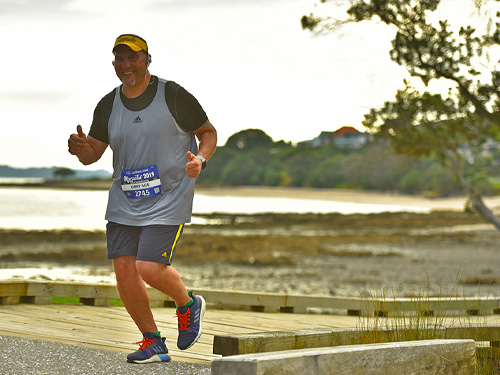 The end of the end – The next weekend, I was just a few days away from my return flight to Boston. My eighteen-mile training run was looming forebodingly in my mind, but I was understandably focused on spending time with my family, shopping for needed supplies to take back home, and completing some outdoor errands around my mother's place. There was a lot to do, and I rationalized to myself that I also required more recovery time from my two recent long runs (the 16-miler and the half marathon) in order to be ready for my twenty-miler the following weekend back in Boston. The twenty-miler is, for most marathoners, the longest of their training runs. Once you've got that one "in the bank" then your body and mind are about as prepared as they can be to confront the 26.2 miles of the marathon. I had already registered to run the Eastern States 20-Miler which starts in Maine, runs through New Hampshire, and finishes in Massachusetts. It's a flat, coastal run that I've done in the past and that I felt very sure about completing.
On the second leg of my flight home (Houston to Boston), I had the distinct displeasure of sitting next to two young Babson College students returning from their Spring Break excursion to Cabo, Mexico. They were pleasant enough human beings, but had, according to them, been partying non-stop for a week with no consideration for sleep. So the consequence of their convivial quest was that they were now sitting on an airplane coughing, sneezing, sniffing, and generally lapsing in and out of consciousness for the whole four and a half hours of the flight. Can you begin to imagine what was in store for me next? Within two days of arriving home, my head became a miserable mess, my body ached from top to bottom, and I couldn't get enough sleep; sometimes sleeping up to twelve hours at a time. This scourge may have been a combination of things including the flu, jet lag, and a reaction to being back in the cold weather; I honestly don't know. What I do know is that, not only did I miss my 20-miler, but I became physically incapable of even walking to the end of my street.
I finally recovered to normality, but only about ten days out from the Boston Marathon. So I conferred with my running coach (Pat O'Connor of LunchTime Runner) about my options. I calculated that I could still run the first sixteen miles and then walk the last ten. But his advice reiterated what I already knew, and didn't really want to hear. I've heard it and learned it over the years: "You can't cheat the marathon." It's a simple truth and a hard lesson; at least for border-line athletes like me. If you don't put in the prescribed amount of training miles over the prescribed amount of weeks, you can pretty much count on not being successful. Likewise, even if you do manage to finish the race, you risk injury to your unprepared and unsuspecting body. Despite my early January confidence and even some momentous February and March successes, I had failed down the stretch; within three short weeks the whole plan had unraveled. And it didn't take much; just two missed long runs and a bug.
So I reluctantly decided to not participate in the Boston Marathon this past week, but rather to pay the work I've already done this year forward in training for the Chicago Marathon (again in October). Thanks to the amount of training and the races that I have been able to accomplish so far in 2019, I'm literally miles ahead of where I was at this time last year. And I keenly reflect back on this thought: "Some sessions are stars and some are stones, but in the end they are all rocks and we build upon them." Here's to a healthy summer of building.
A final note of gratitude – My sincere and eternal thanks to Somerville Road Runners for giving me the opportunity and the inspiration to train for the 2019 Boston Marathon. On this tenth anniversary of my club membership, I am re-dedicating myself to running, and I endeavor to become more involved in volunteering and club activities.